character sheets:
Your's truly:
Name: Eris Saybre
Age: 18 (or at leas that's what she tells people. she's really 16)
Gender: Female
Physical description: Eris is an extremely attractive young lady. She's extremely short, only about 4'10" (maybe), and is maybe 100 pounds. She has bright blonde hair (except when in Beta Mode) and sun-kissed skin that looks like she sat in the sun for hours every day, although she is still obviously Caucasian. Her eyes are a bright, almost unnatural, blue (except when she's in Beta Mode, when they turn slate gray) and she always wears blue sparkly Eye Candy (a type of sparkly mascara that a few of my female friends wear that's really sexy. Don't ask). She normally wears light blue or pink shirts (to match her nails) and very short skirts.
Powers: Like Nocturne, Eris has a neurochip, although she is almost a complete linear opposite of the brooding, angry Nocturne. Well, usually.
Unlike most neurochip recipients, Eris is a little...odd in that she is usually so cheery that when her chip activates and blocks her emotions, she experiences a Multiple Personality Disorder-type thing in which she becomes a sadistic, sociopathic serial killer known as Beta Mode. She is not the only recipient to have this Beta Mode, but she is also strange in that the activation of the Beta actually changes her physical appearance.
This is a list of her powers when in normal mode:
-can increase endorphin output in the brain
-telepathy
-can cause people to have memory problems
-high speed internet
-can hack other's neurochips and mess with them, thanks to her "Admin" status in Saybre-Tech
-when she is very happy or in love, she emits radio waves that cause people around her to pump up endorphin levels, making others feel extremely happy.
-The above power is always emitted in her normal form to a small degree, which is why everyone around her finds her to be so irresistible
This is her powers when in Beta Mode:
-telepathy
-increased endorphin output
-can give others headaches
-high speed internet
-can hack other's chips
-can emit Nocturne's Mosquito Machine sound, causing people to lose focus
-can trigger different emotions in the brain, and cause her opponents to randomly break out into tears or begin to jump around giddy as a schoolgirl.
-can hack into the nerve system and cause the body widespread pain.
she has the same weaknesses as Nocturne, although, since she has an Admin chip, hers doesn't glitch up and it has a fail safe program that sends her into a coma for a day or two if her chip overloads.
Personality:
Normal Mode: Eris is happy; almost too happy. She is always extremely positive to an almost annoying point, but it's not like anyone can stay mad at her. Although it may seem that she is extremely positive and has a high self esteem, she is also extremely immoral (explains the skirt) and doesn't think much of herself because of the line of work that her own father forced her into (see backstory). She developes crushes extremely quickly and, unlike other people, isn't afraid to date creatures of other species (it is rumored that she went out with Myre, but ask him about it and you'll get a Frion ray to the brain).
Beta Mode: Eris becomes a sociopathic, cold-blooded killer. She is extremely sadistic in this form and loves to see people in pain. She also becomes extremely depressed when in this form for too long, and has a habit of cutting herself, although they cuts disappear when she turns back into her Normal form. She becomes even more immoral when in this form.
theme:
Name: Agent MYRE
Gender: Male
Creature: New Jabban
Age: 23
Apperance: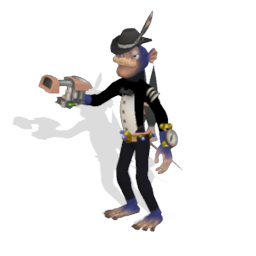 He's about 5'3" and 100 pounds (maybe)
Personality: Myre is the sharp, quick-witted type who never runs out of things to say. He's the sort who will sit there while being strapped to an electric chair and wittily banter with his nemesis while they obsessively wring their hands. He usually has a very long temper, and can take insults and spitting. He's a bit of a smart-SPORE, and is rather egoistic. His best friend is Exo, though he's always been jealous of his smarter, more indestructible comrade. This is one of the reasons that he always bickers with Exo, because, truthfully, Myre wishes he was half the man (or is he?) Exo is. (I want to make Myre slightly more human in this rp.
bionics: Myre doesn't have any bionic powers. He's a secret agent for the NJIA, the most technologically advanced spy agentcy in the multiverse. He has enough gadgets to choke a herd of hippos, and can basically kill you with a bent plastic spoon. He has Exo the supergenius to back him up too.
Weapons: Saybre-tech Model 007 plasma pistol, a Vacuum ray (a gun that looks like a hair dryer and can suck small objects into another dimension), and a cesium pellet gun (in case we need to go fishing

)
Other:
Theme song:
Name: Fredrick Nyx, but you call him Nocturne.
Age: Unknown
Gender: Male
Physical description: Nocturne is a small man, about 5'8 and 140 pounds. He has oily black hair that is tied
into a ponytail in the back, along with a black goatee, and piercing silver eyes with black rims under them that makes him look like he never sleeps, both of which are because of his neurochip (see below). His skin is light, like he doesn't go outside much, which looks almost ghostly compared to his hair. He always wears a black trench coat, high black boots, and a square, monocle-like object that is really a nanocomputer screen which monitors the neurochip's functionality and any injuries he's sustained. He usually has a wickedly evil smile on his face.
Personality: Nocturne is a bit freaky to be around, as the neurochip in his head sometimes messes with his emotions, making him almost machine-like. He has an extremely short fuse, which can be set off by anything from someone kicking dirt on his shoes to just a witty comeback. He is a sociopath; he kills, kills, and kills some more, and never feels an ounce of guilt.
Powers: Nocturne has an artificial neural implant in his mind that gives him a multitude of powers. This neurochip first of all is embedded in his brain stem and can shut off his pain receptors, making him resistant to pain at times. It also can create a strange radio frequency that can, in a sense "tap in" to the human brain and read it like a book. This telepathy allows him to hack into people's minds and do anything from increasing adrenaline levels, making the target lose focus or become overly angry and blood thirsty, to simply telling exactly what their thoughts are at that moment. Here's a list of everything he can do so far.
- increase adrenaline levels in the brain
-cause people to have memory problems
-cause the visual cortex and other sensory areas of the brain to decrease function, causing people to not be able to see or hear as well
-emit a mosquito-like noise that keeps people from focusing
-cause nerve twitches that can make someone "accidentally" pull a trigger or something
-he has also been known to get so angry at times that the naurochip begins to fire out radio frequencies, giving everyone in a certain area a massive migrane.
-he can do the same as the power above except to just one person.
-cause other people with neurochips' chip to malfunction and melt.
-his chip also has a built-in high-speed internet function that doesn't apply to the rules stated below.
There's a few drawbacks to Nocturne's powers though. First of all, he has to recharge after using each power, so he can't just walk around striking people down with headaches. there's a waiting period of about a minute for each of his abilities.
Then, there's the neurochip itself. The neurochip is powerful, but has a few major drawbacks.
1. The chip can mess with certain human elements of the brain, and trigger different emotions randomly. Nocturne can go from being extremely happy to blisteringly angry in seconds on a bad day.
2. The chip is a prototype and, every once in a while, manfunctions, causing Nocturne to have a massive headache to the point where he passes out and has to reboot.
3. If the chip is overused or overly stressed, it can overheat and melt down. And if that happens, that's all she wrote. Nocturne will die in seconds.
Theme song:
name: Athena
age: irrelevant
gender: female
appearance: Athena is Myre's AI. She's usually heard and not seen, though when she appears in her avatar form she's a young human adult with long silky brown hair and unnaturally green eyes. In this form, she wears a white toga and holds a stone tablet in her left hand, like the Statue of Liberty.
personality: Athena is a machine, but she still has a personality. She is very witty and sarcastic, just like her agent, which is why they get along so well. She is secretly madly in love with Myre, though she can't show it, as she's afraid of what would happen if people found out. I mean, the world of AIs is doggy-dog, and falling in love with an agent is strictly frowned upon. Besides Myre, she doesn't like sentient life forms in general. They don't think that she has feelings or emotions, yet she does, and she suffers for it. People will treat AIs like dirt because they don't think the poor machines have any emotions. Anyone but Myre, who also secretly likes his AI, and treats her like the woman she is.
bionics: Well, Athena is a hologram, so.... yeah... she doesn't have any actual bionics. However, she is very useful. She can crack codes on locked doors, hijack machines (but not Agents), crack firewalls, even surf the web all from a tiny chip inserted in Myre's ear.
God-Mod
name: Exo
age: ?
gender: =
Syndicate: None, really. It would probably side with Gijutsu though.
appearance: Standing at 4' 6" Exo isn't exactly a threatening person, phisically, but its small size allows it to fit into small spaces such as air ducts and other small openings which is by far, more useful than being able to see over a large object or seem a bit more threatening. It is also able to stay underwater almost indefinatly thanks to 6 salamander like gills on the side of its head. Its eyes are large and cat like, giving it excellent night vision and a bit of light sensitivity during the day. As a result, it avoids hot or bright places when ever possible, not only because of its more sensitive eyes but because its skin is very similar to that of a frogs and dries out more easily than ours would. It's legs, arms, feet and hands are also like that of a frogs. Its hands and feet being prehensile like those of a tree frogs, and its legs being shorter than a frogs so as to alow for a biped posture. It does take after salamanders in its head shape and the fact that it has a short tail that is more vestigual than anything else. Its head is shaped like an Axolotls, except the snout ariea is shorter and more compact, with a lower jaw strength which is compensated for by its larger brain. As implied by its animal similarities, it's teeth are very simmilar to that of a lizards, except a bit larger and wider around the base.
It always wears a orange long sleeve shirt and what appear to be black fencing pants with the straps looped over its shoulders so they make an X across its chest, making it look kind of like a space age red coat crossed with the red shirts from star trek.
personality: Exo is the kind of person that revels in toying with peoples emotions, especially when those people are angry or trying to come across as threatening. As a result, it tends to get on the bad side of a lot of actually dangerous people who, as a general rule, end up sticking a bounty on its head. And not the kind you use to clean up spilt drinks. Surprising as it may not be, Exo uses the above fact, as a kind of dare. Which generally goes something like, 'I have 23 people who want me dead, none of them have succeeded, I bet you can't make it 24.' The reason it does this, is because its willing to bet that 9 out of the 10 people that hate its guts, are just air headed narcissists with big, easily bruised egos, and it finds it very entertaining to make those people very angry and then escape through an air duct right when they think they can catch it. Basically, its a bit of a dare devil that uses words and plots instead of motorcycles and ramps.
It is because of the above behavioral problems that Exo has developed the ability to guess within a decent degree of accuracy, what someone will do next based on their personality and predispositions. This trait, is very similar to that of a Chess Grand Master, where they are able to predict their opponents moves up to 20 steps ahead of them and formulate a strategy accordingly.
Acirians as a whole are commonly affected by a form of MPD, or Multiple Personality Disorder. This generally takes place after they have been dealt a large amount of brain trauma, or a shortage of Kamikaze proteins which causes extra cells to be formed in neural clusters, which slowly build up and as they do, cause a split personality. Generally, this split personality is a suicidal sadist that basically, when in control of the body, cause it to be dealt enough trauma that the entire creature divides into two separate Acirians. It is not uncommon for those now two separate individuals to hate each others guts because of the time they had to spend sharing the same body. Exo has had one such episode, which resulted in the creation of the criminal mastermind Zalphar.
powers/abilities: Massive intellect and titanium ego?
I know this isn't a power, but it is worth mentioning:
The defining feature of Acirians is their advanced regenerative abilities. They all have what is considered in other species to be a form of cancer, Blastema. Except, Acirian Blastema cells are governed by four different proteins, TGB51 being one of them. The first of the governing proteins, AZR78, is an initiation protein, and is released by damaged cells nucleus and quickly is transmitted to the other cells surrounding the aria that will start to divide rapidly. The divisions are Blastema, in that they do not have a genetic blueprint to follow, and are pushed around by the third protein, GH25, a motor protein. Once the Blastema contact a damaged cell they absorb it and use that cells genetic blueprints, effectively transforming into that cell. The last protein, TGB51, is one that is currently under investigation as a possible cure for Blastimic cancer. It is what is commonly referred to as a kamikaze protein, and prevents the extra blastema to keep multiplying by attacking any cells that keep generating the AZR78 and canceling it out.
Another notable trait of Acirians is their blood, which, unlike most species, is not hemoglobin, rather, hemocyanin. Hemocyanin is commonly found in deep sea crustaceans and other invertebrates, and is known for its free floating tendencies which allow for greater oxygen and nutrient content per once than hemoglobin. This has the downside of making the blood much thicker, and in Acirians, almost like molasses. This in turn means that the cardiovascular system required to support the thicker consistency must be much more powerful than say, a humans. And this constitutes to their average blood pressure being much higher than most other creatures, and as a result, Acirians weigh a lot more than what looks biologically possible given their small stature.
Character theme: For once, I'll have to do my home work on this one. I'll edit in once I have one that fits it perfectly.
name: Artifex Silvinski
age: 32
gender: Female
Syndicate: Saybre-tech
appearance: Artifex is one of the people that have been come to be known as The Walmart People. Her normal attire consists of blue Pillsbury bunny pajama pants, a very baggy nyan cat pajama shirt thats about 3 sizes to large, neon pink and purple fuzzy my little pony slippers and green baseball socks embroidered with ducks and other birds in a strange camo-type pattern. All of these clothes seem to have been picked out intentionally so as clash with her dark black skin, miss matched neon Amber and blue eyes, her left being Amber and her right being blue and her thin athletic figure. Her hair neon orange frizzy hair which looks as if it was cut with a weedwacker clashes with everything about her. The hair resembles a massive swath of sea weed because at the ends, the hair is dyed dark algae green. If this is not enough to have you bent double over the toilet, trying not to vomit, her lips have the most obnoxious color of cheap pink lipstick and she has pink and blue fake eyelashes that look about ready to fall off her face. Her long thin fingers are tipped with very long, hook like gaudy fake nails that are every color of the rainbow with pictures of carious cartoon characters painted across their surface.
Bionics: The baggy shirt serves to hide the fact that Artifex's chest is mostly made of robotics, this is a result of a past incident in her time served as a agent working for Saybre. Basically, she had to have a large section of her chest and torso reconstructed. Both her heart and her lungs are fully robotic, which gives her an advantage stamina wise and makes her the literal embodiment of a cold hearted killer. Both of her eyes are fully robotic and can see allot more that human eyes can. One absorbs the higher spectrum of light and the other the lower. Her eyes can swivel around like those of a chameleon, but she never does this when other people are looking as it would ruin her disguise. Her normally slippered feet are both slippered because slippers are very useful when one does not want others knowing you were there, and because her feet and parts of her shins are robotic. A set of wheels can extend from the bottom of her feet allowing for faster travel along a flat plane. Her nails hide the fact that her fingers each have a small metal needle like thing instead of nails that can extend about 4-5 inches outwards, like very large, very sharp, hypodermic needles. The needles can inject a tranquilizer. Her hair is the way it is to hide a large metal plate that would otherwise be clearly visible covering a good portion of the back of her skull. Under the plate are cybernetic neurological implants that act to boost her already impressive brain power to a frightening percentage. Her outfit also serves to hide this fact as well. Very well in fact.
personality: When you talk to Artifex, she matches to profile for a complete air head that has a cumulative IQ of around a .3. However, this is far from the truth, give her the supplies and Artifex could quite easily build a nuclear war head. She is probably one of the most intelligent humans on the planet which is why she uses the disguise of a complete idiot. Its about as clever as a serial killer pretending to be a cab driver. Almost 0 suspicion, and for all intents and purposes, she is invisible. Sure, someone might have been killed in the same store as her, and they might have worn slippers, but gone unseen on tape but left one of her fake eyelashes behind or one of her socks, and when no other DNA shows up, and all evidence points to the air headed Walmart person... seriously? the girl with a IQ of .3? a killer? she can't even formulate a proper sentence, how on earth could she have figured out so much as one end of a gun from another?
On the flip side, this seemingly total air head, really is a criminal mastermind in the highest degree. On her average business day, she deposits around 50 instructions informing her various clients as to what to inside various items in encoded messages that look to be something as mundane as a shopping list of a piece of garbage. But if you- actually, I'm not going to spoil all her tricks just yet. She has a insatiable desire to create, and to her, the most beautiful masterpiece is one that is both figuratively ingenious as well as seemingly impossible. And even more impossible to piece together. She does have a slightly sadistic passion for playing cat and mouse, and taunting her opponents. Unfortunately, there are very, very few that she has to work hard at to beat, and a lot of the time she feels like she's trying to give hints someone with Down's syndrome who will never, ever, clueing and see the big picture. So, when the opportunity arrises, and there is actually someone who can see the big picture, she will eagerly engage in a battle of the wits. And only on a few occasions has she gotten close to loosing. Unfortunately. She is very much like Exo in the dare devil aspect, but operates on a completely different playing field.
powers/abilities: Increased intelligence, (To the point that its more than a little scary) increased stamina, (In horse power, seeing as she runs on a mechanical engine of sorts.) Hypodermic nails, rollerblade feet and... a metal scull and breastplate kind of makes you a little bit bullet proof.
Character theme: Again, I am not musically talented, nor have a good taste in the matter so, a matter of homework is needed for me to come up with a decent piece.
Other: Nero the neurological narcissist operating a fencing move known as novacane under the influence of nurotoxin based narcotics.
Name: Ebatzi Bombacker
Age: 35
Gender: Male
Syndicate: None technically. He's Artifex's personal hitman.
Appearance: Ebatzi is relatively short, about 5' 6", which serves his purposes just fine. He has brownish black spiky hair that gives you the impression that he has never actually been to the barber or never learned how to cut his own hair. He usually wears a grey/green hoodie with what looks like pale yellow wool or cotton fuzz on the inside that sticks together in quarter sized densely packed clumps. He almost always wears pale green/brown cargo pants that have the same lining as the hoodie which is almost always zipped up to his neck with the hood up. He never wears any formal attire, and always wears a pair of what look to be nondescript skating shoes except they never have the tell tale scuffing around the outer heel of the shoe of someone who actually uses a skate board. The fact that he has a the ghosts of wrinkles around the edges of his brown eyes makes him look about 10 years to old of his choice in clothes, but other than that, he still has the pale features and general stance of someone who is still in the Grunge stage.
Bionics and other stuff: The yellow lining of his hoodie is actually Kevlar that has been slightly frayed so that it is not obvious that he is actually wearing what is basically a bullet proof vest. So unless you shoot him in the face, your not going to put a bullet through him. His slightly scrawny build helps to hide the fact that he is stronger than most humans because of bionic implants in his arms and legs that increase his overall strength. His shoes and pants help to hide that his legs up until his slightly above his knees have a partially external shock absorber that looks kind of like a spring crossed with a power stilt meaning that if he is able to land on his feet he is generally able to run away after a pretty high drop. (20-25 maybe 30 feet?) He also has slightly increased eyesight at night because of in implanted reflective membrane, which is very useful for assassinations. Unfortunately, it makes the light reflect off his eyes with a slightly blueish tint.
Personality: Ebatzi generally comes across as a bit dark with a slightly gory sense of humor, which undoubtedly comes from his line of work. It is not uncommon for him to joke about different ways he could have killed someone using whatever object happened to be within his immediate vicinity, and usually that person is the one he is talking to at the moment. This doesn't mean Ebatzi is a recluse that lives under the floor boards, but rather that he tends to be an introvert and spends more time wandering around on the streets observing different strategical positions on buildings or in alleys, making mental notes as to what kind of gun or other weapon would work best for that location along with the approximate time it would take to set up and take down and what he could use from around the aria to cover his tracks. Generally, once he has a target picked out, he will shadow them for a few days, watching how they react to people and places and what their general habits and mannerisms are so he can take them out in the most efficient and strategic way possible without ever making himself a suspect. If it is impossible for him not to do so, he will do his best to make it look utterly impossible for him to have been the one that 'done it.' If it's possible, its to his style that he makes his targets murder look in all aspects like the target killed them selves. Be it accidentally or intentionally. This makes him one of Artifex's favorite hit men, because he compliments her style of creating as much subtleties that deny the true facts as possible for any given scenario. Both of them view their work not as a job but as a art, that like chess, requires good players in order to be satisfactory.
Powers/abilities: Relatively bullet proof, especially when running away, increased strength and bionic shock absorbers.
Character Theme: ... Gluons, I need to work on my musical taste and overall knowledge... I'll uh, find one.
Theoperator:
name: Bane
age: 32
gender: Male
Syndicate: Saybre-Tech
appearance:
(If you've seen The Dark Knight Rises, you known what
Bane
looks like.)
Bane is a large white male in his late twenties, and stands at an extremely tall 6'5. He is built like a rock, and is extremely strong, having a large amount of muscle on his body. He weighs in a two hundred and twenty pounds, and has mask that secretes pain killer into his body on his face. He also wears a vest with several higher tech attachments to it, which helps control the amount of pain killer secreted into his body in a single dose. His leggings consist of cargo pants with plastic guards on his knees. His bionics come into play with his reflexes. He has several implants in his spine that supercharge the speed and reaction time of the brain's nerve signals. Making him move almost inhumanly fast while aiming a gun or blocking a punch. However, this has no effect on how fast he runs or how high he can jump, etc. Of course, he cant dodge a bullet or anything like that.
personality:
Bane is very intelligent and devious, tending to come up with very complex plans that usually work out in the end. He tends to be witty in a dark way, insulting the opposition openly and pinpointing it's flaws with words like he would a pressure point in a fight. He can be an alright guy, but he will not hesitate to break you, no matter how good your friendship is, if you turn on him.
powers/abilities: Inhumanly fast reflexes. Border-lining super human. He also is extremely strong, and can take a serious pounding and just. keep. coming.
Character theme:
other: Nero
Darklord
Name:
Lurin Delarus
Age:
29
Gender:
Male
Syndicate:
Saybre-Tech
Appearance:
Lurin is tall and slender. He is greatly caged in a cybernetic "prism" as metallic robotics cover almost every nook and cranny of his body. Most of his skin is made of metal, his entire head is a large metal box containing a living brain and many other organic fibers inside that control everything. Nearly his entire body is made entirely of robotics, however a huge mass of organs and organic material lie cased up tightly in several metal chasms filled with life support operating systems in his stomach.
Lurin has skin made of metal, it often looks like a mix of dark gray mixed with a silver tint His eyes are robotic and red with a glow to them. Lurin's limbs are also made up completely of robotics, they are able to turn and rotate on practically any axis possible, this helps him in his assassinations. He has large guns strapped to his body, some on his right arm. He is often seen wearing either a suit or an armor coating of some sort.
Lurin has a large red glowing circle in the middle of his chest, this is a pretty good target when fighting him. It controls much of his suit, if you take it out his life support will begin to rapidly fail and his cybernetics will power down.
Personality:
Being 75% robotic, Lurin often has a dry personality. Most of his emotions were lost long ago when the implants first came to his mind, but he does have a pretty decent portion of his old self left inside of him and he can still express feeling and thoughts in a human way. Lurin is also insane--but he hides it, and rather well too. He is very insane, criminally insane, but not at the modern time extent, he will not do something stupid and get caught when he does something bad. He covers it up so well it was as if the person just vanished from the planet without another word. Then he'll move on to his next target.
His targets are often people he doesn't like or just random idiots in his way. He'll do anything to prove a point and can be rather unpredictable at times.
Powers/abilities:
(tell me, in this time period do we use high-tech scifi gear like lasers and sheilds, or do bullets and bombs still exist?)
Lurin is your basic killing machine. He carries many guns on him at all times, some are even built into his cybernetic body. There are exactly three guns in his right arm, one of them you can tell is there because it pokes up right above the above side of his arm a tad. He has 2 large blades implanted into his right arm as well which can retract. He carries 2 smaller, less powerful guns in his left arm and two large rockets in his iron feet which allows him to lift off into the air for a short period of time. Lurin usually carries a few other blades and guns built into his abdomen pieces.
Character Theme:Other:
Nero